Tinker Bell has worn her iconic green dress since her first appearance in Peter Pan.
Traditional Outfit
Tink's standard outfit consists of a green strapless dress, low-cut in the back to allow for her wings, and small flat shoes with white cottonpuff tops.
As it turns out, Tink got both stuck in a keyhole in a drawer, and received a spanking from Peter Pan (his way of collecting pixie dust from her) which revealed that underneath her dress she wears white granny panties.
Arrival Outfit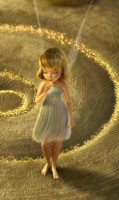 When Tinker Bell first arrives in Pixie Hollow, she is barefoot with a white flowing strapless gown. Her hair hangs down until she creates her "real" outfit, but oddly she is "born" with it already cut and with bangs.
Spring Outfit
Her first solo film dealt with the season of Spring and so this version of Tink's dress is referred to as her Spring Outfit, as well as her standard outfit.
In the film, we find her dress is not actually green fabric but is cut from green leaf.  This makes sense as the films use "nature technology" where all tools, clothing, and buildings are fashioned from natural materials re-purposed and fairy-sized.  Instead of woven cloth, therefore, she has a leaf dress.  Perhaps it is fairy magic that makes it so durable…
Merchandise may either show the leaf-vein motif to tie in with the films, but much of it continues to use minor variations on the original solid-color fabric dress.
Autumn Outfit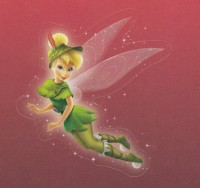 In the second film, Tinker Bell and the Lost Treasure, we at first continue to see her in her standard outfit as Autumn approaches, although the other fairies are already in their Autumn outfits.
But when she plans a journey, we find she has a closet full of (to human eyes) identical dresses, although some are apparently unsuited for travel.  However she expands her outfit with tights, a long-sleeve sheer undershirt, feathered visor, leaf shawl, belt, and boots (although still with cottonpuff tops!).
Merchandise from this era will have variations on this outfit, such as the picture at left which doesn't show the long-sleeve sheer shirt.  She loses her leaf shawl soon into her trip this is reflected in the stickers and pictures depicting her Autumn Outfit (or her Travel Outfit).
Summer Outfit
In the third film, Tinker Bell and the Great Fairy Rescue, we see a major departure for the first time.  While her Autumn outfit kept her signature dress and embellished it, here she replaces it completely with, for the first time, a two-piece outfit.  Her top is composed of horizontal grassblade wrapping, and her skirt is layered leaves.  No explanation for the changes is given; the weather is warmer but unlike the other fairies, this outfit does not seem to be a "warm weather outfit," it does not cover any less than her previous dress.  In fact, the added layers may make it slightly warmer!  Although perhaps this material "breathes" better and is indeed cooler for Summer months.
She kept her shoes, as did Vidia, while her other friends all switched to sandals (or no footwear at all in Fawn's case).