Tinker Bell is the most well-known fairy in the world, and the centerpiece character of the Disney Fairies franchise.
She originated in the 1904 play by J. M. Barrie, and the 1911 novelization.  She was considered "quite a common fairy," and is actually stated to have died of old age (for fairies don't live very long) by the end of the story!
In 1953 Disney released Peter Pan, and created the signature look of Tinker Bell as we know her today, with a green dress, little slippers with white puffs, and blonde hair tied up in a bun.
As a character, she retained much of the, well, villainy of the character in the novel, attempting to murder Wendy out of envy, by the hand of the Lost Boys.  In the book it is explained that fairies, being so small, can only experience a single emotion at once, so Tinker Bell is always either purely good or utterly naughty!
In 2005, Disney launched the Disney Fairies franchise (after originally shoehorning Tinker Bell into the Disney Princesses line).  A novel titled "Fairy Dust and the Quest for the Egg," by noted author Gail Carson Levine introduced the world of Pixie Hollow.  It was followed by two sequels.  In the novels, Tinker Bell again retains much of her abrasive personality, with little patience for others.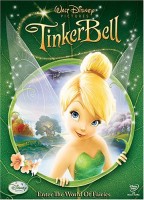 In 2008, a direct-to-DVD film was released, done in 3D animation.  Unlike some of the previous sequels Disney released for a quick buck, this film was actually of incredibly high quality with regards to visuals, audio, and most importantly, story.  This is likely due to John Lasseter assuming control of Disney Animation after they acquired Pixar.  His devotion to storytelling and not simply fancy effects or profit-motives is well known.
Here Tinker Bell has evolved in a more rounded character, still able to fly off the handle, but also able to be kind, help others, and make friends.  Many of her negative personality quirks in the first film are explained by her being so young: she is literally only a few days old for much of the film.  In the sequels she has matured although her natural impulsiveness and exuberance still get her into plenty of trouble!  Her famous short temper does continue to make appearances as well.
The "Short" Facts
Talent: Tinker.  Originally a common pots-and-pans fairy, she has grown into the MacGyver of the fairy world!
Nickname: Tink, of course!  Bobble sometimes calls her Miss Bell.
Fashion: Strapless dress made of green leaf, her own design.  She adds tights, boots, sun visor, and shawl for traveling, and favors horizontal wrap top and multi-leaf skirt for hot summer months.
Personality: Impulsive due to youthful exhuberance. Kind when not busy being self-centered, certainly sassy and feisty.  Known to turn red when angry and purse her lips when pouting!
Favourite Activity: Fixing things!  Especially using Lost Things to create new inventions.
Favourite Foods: Pumpkin muffins.
Favourite Flower: Silverbells.
Pet Peeve: Having everything already working like clockwork leaves her nothing to do… she also isn't very fond of being woken up early or having people crowd her while she's working.
Best Friend: Terence.  He has crush on Tink, but she remains blissfully unaware.  He's been friend-zoned big time.
Known for: New inventions that speed up the work of the nature fairies.  Becoming friends with humans, when most fairies avoid them.
Animal friends: Cheese, a cheerful mouse helps transport goods, and Blaze, a "tough guy" firefly with a serious appetite.
Pixie Hollow Games: Tink teams up with Fairy Mary in the Derby Cart race.
Home: A teakettle cottage in Tinker's Nook, in Cottonpuff Fields.
Quote: "This is your fault!"